There are a number of things to look forward to throughout the holiday season, including the opportunity to decorate your house and Christmas tree with festive lights. Unfortunately, decorative lights can be safety hazards if not installed and managed properly, so don't overlook any potential problems. Let's take a look at some of the most common safety issues related to Christmas lights and how you can avoid them.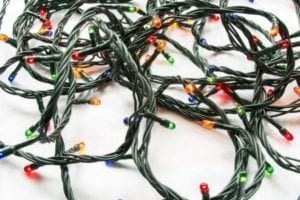 Did you know that more than 80 percent of Americans decorate their homes during the holiday season? That's according to an ESFI consumer survey from 2013. With so many homes covered in decorations, there's bound to be a few safety hazards involved, most especially when it comes to lighting. Hanging up colorful lights is a great way to make your home more inviting and charming during the holidays, but it can also increase the odds of an electrical injury or a fire breaking out.
One of the easiest things you can do to prevent an accident is turn off your lights during the day, when you leave your home and when you go to bed at night. Not only will this minimize the risk of an accident, but it will help you cut down on your electric bill.
Leaving lights on isn't the only hazard, however. The actual process of hanging the lights can be dangerous, especially if you're wrapping them around a house. Make sure you use a sturdy ladder that's not near any snow or ice, and work slowly and carefully to prevent injury.
Besides festive lights that can be hung around your home or a tree, many people enjoy lighting candles around the holidays. If possible, consider using battery-operated candles instead. These candles can often achieve the same effect as traditional candles and are much less dangerous than having open flames around your home, especially if you have children or animals around who might be prone to knocking things over.
Overall, don't run too many cords from the same socket, and always make sure the cords remain untangled. Putting too much strain on a single outlet or extension cord can lead to overheating and even fires. Lastly, before turning anything on, do a simple check to ensure there are no exposed sockets or missing bulbs where outside debris could come into contact with live electrical current. An empty light socket on a string of lights can easily work like a car lighter if loose leaves, papers or other substances get in, so make sure that your lights are fully functional before flipping the switch.
With these simple tips in mind, you should have nothing to worry about this holiday season! At Pristine Inspections & Testing, we work year round to help Illinois residents get peace of mind about their home and make sure that their home is safe and secure. To learn more about our home inspection services or to schedule an appointment, give us a call today at 217-352-3743.