Radon is a radioactive gas that's produced by the earth from naturally occurring uranium in the soil and water decaying over time. This gas is harmful to people when exposed to elevated levels over an extended period of time. In some areas in the country where radon levels are particularly high, however, the elevated levels of this radioactive, odorless gas occurs in homes and can cause people to get lung cancer.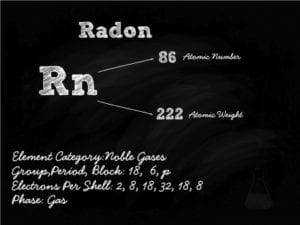 Radon is the second-leading cause of lung cancer, according to the EPA. Some doctors say that if exposure to radon is high and consistent over a period of time, it can be as dangerous to your body as smoking several packs of cigarettes per day.
Since the gas is odorless and tasteless, the only way to know for sure if your home has lower levels is to test it. According to the EPA, a pCi/L – short for picocuries per liter – level of 0–2 is common, while levels of 4 and above it is recommended that you take action.
If your home has higher than normal radon levels, you may want to install a mitigation system. Though there is a cost associated with the installation process, it is more affordable than you may think. The mitigation system can manage high levels of radon by creating a pathway for the gas to escape your home. Mitigation systems are installed underneath your home's foundation – where the gas collects – and directs the gas through pipes, blowing the gas above your home via a fan system.
In Utah, Jan Poulsen was diagnosed with lung cancer in 2007 after five years of living in her and her husband's dream home, reports KTVX in Salt Lake City. Since she wasn't a smoker, she wondered whether radon could have caused her to get sick. After testing her home, she found that the radon level was 24 pCi/L, and the presence of this harmful gas was most certainly a factor in Poulsen's illness.
With January serving as National Radon Awareness Month, it's the perfect time to get your home tested for this harmful, radioactive gas, and take action to protect your family. To learn more or to schedule a home radon testing appointment, call Pristine Inspections & Testing today at 217-352-3743.