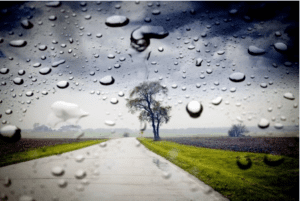 The spring season ushers in the welcoming sights and smells of gorgeous flowers in bloom, a reprieve from the ice and snow following you around all winter and the chance to get outdoors to enjoy the sunshine.
However, a large part of the season is spring storms that bring thunder, lightning and, most problematic, possible runoff and contamination risks in drinking water.
With more rainstorms, the spring snow melt and farms fertilizing as the growing season ramps up, the possibility of water contamination increases dramatically during the spring. Can you imagine drinking contaminated water due to something as simple as rain runoff?
One form of bacteria common in the environment in soil or vegetation is coliform bacteria. Though generally harmless, fecal bacteria could also be found in the presence of coliform bacteria. The presence of fecal coliform in drinking water often indicates fecal contamination – most commonly from manure use at farms or backups in storm drains – which, in turn, increases the risk of pathogens being present in the water.
Tests for coliform bacteria are common at rural properties that rely on well water. When surface water is contaminated with manure and able to travel down and mix with the groundwater a well uses, it can enter the well, too, notes the Illinois Environmental Protection Agency. The late winter and early spring seasons become an issue here because manure cannot be tilled in, held in place by growing plants, or completely soak into the ground.
A second risk to drinking water is nitrates, commonly found in fertilizers. Runoff from fertilizer use is one of the largest sources of nitrates in drinking water, when heavy rains cause fertilizer to run off of fields. Because manure contains bacteria and other organisms that cause diseases like E. coli and salmonella, ensuring well water and other sources of drinking water are clean is extremely important.
Finally, another common contamination source is pesticides, herbicides and synthetic organic chemicals. These can also seep into groundwater during the rainy season as fields are treated during the early planting season. The IEPA offers more information on its website.
Although the risks of water contamination increase in spring, you can stay safe and healthy by taking preventative measures and check your drinking water. Make sure to get your water tested for coliform bacteria and nitrates this spring by Pristine Inspections and Testing to ensure safe drinking water. Call us today at 217-352-3743 to learn more or to schedule an appointment.