Smoke detectors are vital in keeping homes, families and belongings safe. But, as the saying goes, nothing lasts forever, and that includes smoke detectors. You may not think about your smoke detector when looking for things in your house that require regular maintenance and attention, but just like any other fixture or component in your home, these devices can degrade over time.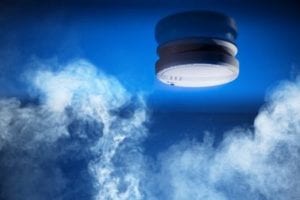 Many people aren't aware that the average life expectancy of a smoke detector is 10 years, notes Working RE Magazine. After that time frame, the sensors can begin to lose their sensitivity. Now you may hit the test button and smoke detector will go off, but that doesn't mean it's working properly. That button only confirms the battery, electronics and alert system are working. Without fully functioning sensors, though, none of those work.
When you go to replace your smoke detector, the two most common choices are ionization detectors and photoelectric smoke alarms. The ionization detectors use electrically charged particles to help detect smoke in the surrounding air. They are also very inexpensive, which is why they are the most commonly found smoke alarms in homes across America.
The alternative, photoelectric smoke alarms, on the other hand, use a light beam to help detect smoke within your home. A photoelectric smoke alarm is also more effective at detecting a fire from a smoldering source that may not be obvious to people inside the building, like a slow-burning couch cushion or insulation behind the walls.
Pristine Home Inspections offers professional home inspections that will look at everything from structural components to smoke alarms. If you are looking to buy a home, don't buy one without a proper inspection first. For more information on our services, contact us today!