There are a few different reasons why a home would be sold in "as-is" condition. The most common of reasons, however, is that the home is in foreclosure or being offered on a short sale. A home sale advertised 'as-is" means that the seller is communicating that what you see is what you get. There will be no repairs or updates made to the home, they are selling it In its current condition no exceptions or haggling will be done as far as repairs go.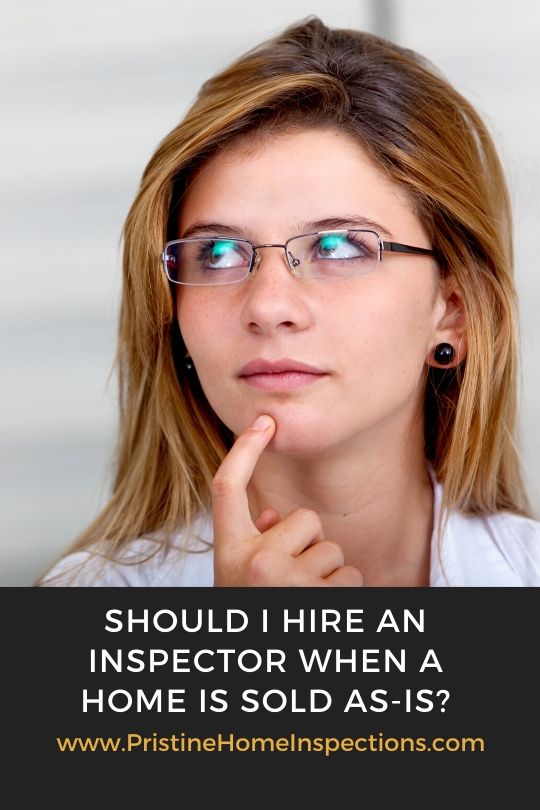 It is not uncommon for buyers to waive off even hiring a home inspector with an as-is sale because the condition of the home is not going to be changed before the home is sold, and it typically isn't required by a lender in order to close the loan. Even if you are considering buying an as-is home, it could be very beneficial to hire an inspector, here's why:  
As-Is Could Mean a Number of Things

 
As you walk through the home in the initial viewing, you can get a feel for the general overall look and feel of the home, and you may even find some visible defects and concerns, but there could be much more lurking underneath yet to be revealed. Home inspectors are trained to notice things just by walking through a home that buyers and realtors are not. Not only that, but they are also trained to check out areas of the home that typically harbor hidden issues. The only way to get a good idea of what is truly going on inside of a home is to hire a highly trained and highly skilled inspector. With an as-is property, the best time to do this is before you make an offer you can't back out of.  
Common Fixes Inspectors Recommend When  You Move In
With an as-is property, there are usually issues. Some of the major issues, if a home has them are required by law to be disclosed (openly communicated) to any potential buyers by the seller. It is not uncommon for sellers to gloss over an issue in flowery words or give the bare minimum of information to help get the home sold; sometimes (in a few cases) they may even lie or cover something up even though it's illegal. Hiring a reliable home inspector gets you a true black and white, unbiased report of the condition of the home.  
More: Issues that may require additional inspections
Potentially Save Lots of Money

 
Yes, it does cost money to hire an inspector, but the cost comparison of paying for the inspection versus how valuable the information and insight they give is far greater. Paying a few hundred dollars and finding out you should walk away from a home that is hundreds of thousands of dollars will save you a great deal of money.  
More: Do you need a home inspection on new construction?
If you are considering purchasing an as-is home in the Champaign area, hire the team at Pristine Home Inspections to do a thorough assessment of the home's actual condition first. You will not regret it.  
For home inspections in Champaign and surrounding areas contact Pristine Home Inspections and testing today.  
Additional Resources: