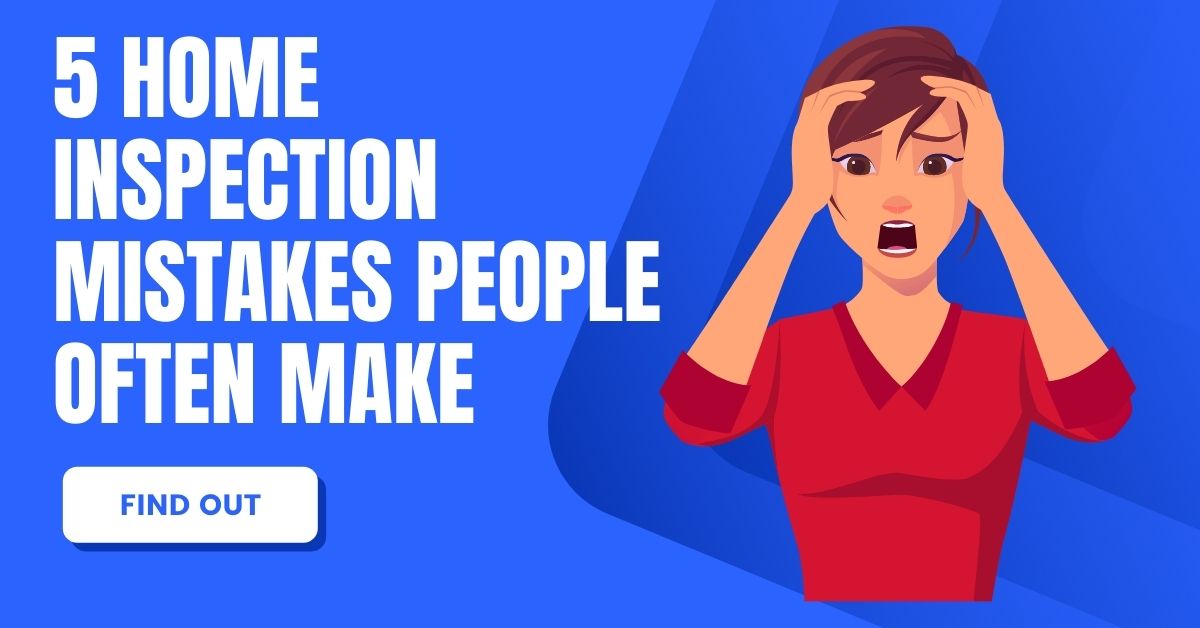 Before the final close of a home sale, a majority of home buyers will hire a professional home inspector to assess the condition of the home and make sure they are making a sound investment with a large amount of money.
Here's what you can expect from a home inspection and five mistakes to avoid in the home inspection process
What is the Home Inspection Process?
The home inspection gives the homebuyer opportunity to have a professional evaluate the overall condition of the home and its safety and livability as well as any minor issues that could use some repair.
Most often buyers get inspections after making an offer on the home and having it accepted by the seller, but before they release the money and sign the final paperwork for the official close on the home sale. A seller also has the option of having an inspection completed before they list their home for sale.
A pre-sale home inspection will help you to identify any potential problems with the property and will give you information on upkeep and maintenance for the home after moving in. If there are any major concerns found you can negotiate new terms of purchase with the sellers or choose not to purchase the home without any consequence.
Five Home Common Made Inspection Mistakes to Avoid
Not getting a pre-sale inspection if you are the seller
Many sellers do not hire an inspector to look over the home before they list it for sale. But it can be very beneficial to hire a professional home inspector to help you assess the condition of the home and what to expect when a buyer brings an inspector in.
Not doing your homework on the inspector you hire
Often a homebuyer will just hire whoever is recommended to them through a friend or a real estate professional. But an inspection is only as good as the experience and thoroughness of the inspector conducting it. You want to make sure that the person you are hiring is going to do the best job possible and that you can trust them.
You want to research your inspector making sure that they are licensed and have plenty of experience especially in the location in which you are purchasing a home. You want to ask them questions such as how long they have been inspecting homes and how many inspections they personally have conducted. You can also ask them about their qualifications and training and anything else that may spark your curiosity.
This person is going to be giving a very important report about crucial items within the home you're about to purchase, it is increasingly important to make sure you have the right person doing it.
Not attending the inspection in person
It is not mandatory for the buyer to be present at the inspection, but it is a very smart move. Just reading the report will not give you enough insight or knowledge about the fine details of the home and why things were noted on the report.
Walking through the home with the inspector will not only allow you to hear in real-time what the inspector is saying and have them explain it to you with their own words as well as in writing on the report, but it also gives you a chance to ask them questions about anything that may stick out to you when you walk through the home with them.
Not reading the inspection report all the way through
If you attend the inspection in person, make sure that you do not ignore reading the inspection report or just merely gloss over it. You paid for the report, you want to make sure you fully read and understand the contents of it.
You may find something written within the report that you forgot about or did not cover during the walk-through, or even forgot that you did cover.
Not prepping your home
For an inspector to look over every area that they need to in the home it is a good idea to have every area accessible and clean. This can mean making sure that there is an easy route to the electrical box, all heating, and cooling systems, all plumbing systems underneath sinks, and around toilets, and showers, the crawlspace, etc.
An inspector is required to make sure they check out certain areas of every home according to local laws and as such if they are not able to access these areas, they will need to come back to finish the report at a different time which can prolong the home sale.
For more information on home inspections in Champaign Illinois and surrounding areas please contact us anytime.
Schedule an Appointment
More information for Home Buyers